energetics of food by steve gagné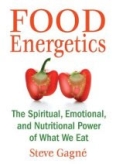 Health and Nutritian
Its back. bigger and better than ever! The underground classic on food. health and energetic nutrition in a new updated and expanded edition.
Energetics of Food is the unique book of lost wisdom that goes beyond the conventional linear approach to nutrition-with its endless mire of calories. isolated nutritonal components and politically-correct dietetics and penetrates to the heart of food.
Even though we live in a culture with sophisticated technology with seemingly unlimited resources for learning, we still don't know how to eat or how to manage this most primary relationship. Rooted in the traditions of our ancestors and the commonsense philosophy that founded the natural healing modalities of traditional peoples the world over, Energetics of Food will change the way you perceive food and nutrition.
Now you can get to know food on a deeply personal level, beyond weights and measures. Energetics of Food will show you how the foods you eat affect your life at every level. Not only will you learn the true meaning of "You are what you eat" -you'll also learn why and how you are what you eat!
Steve Gagne has spent over thirty years researching and teaching food energetics. He has circled the globe, exploring the world's jungles, ancient excava tions, villages and traditional cultures in a quest to understand the full scope, in both space and time, of our most intimate relationship.
Golden Age Project Comment - We unreservedly recommend this book as first choice reading for those who want to change their lives and provide constructive help towards the good management of our precious planet.
This Book is available on www.stevegagne.com