COMPARISON OF THE PIRI RE'IS MAP WITH A MODERN MAP
The Azores is originally shown to be covering an area some ten larger than now providing probable evidence of subsidence and sea level rise.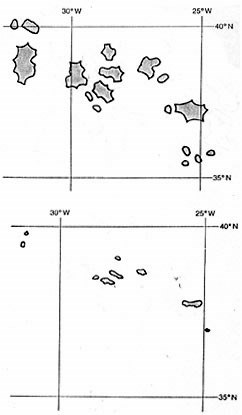 The correct placing of the Azores in latitude and longitude on the geometric grid suggests that the Piri Re'is map of the Azores is of great antiquity. It may have been this very map (in another version or copy) that led the Portuguese to the discovery of the islands in 1431. It is unreasonable to suppose that they could have mapped them in their correct positions when they had no means of finding longitude and when graduated sailing charts were not introduced until about the year 1500. Even the Portuguese would hardly have drawn the islands with so little regard to their present shapes.
From Maps of the Ancient Sea Kings by Professor Charles Hapgood