MADE TO MEASURE MAN IS A RECORD 7ft 9in
THE TIMES TUESDAY FEBRUARY 19 2002
By Laura Peek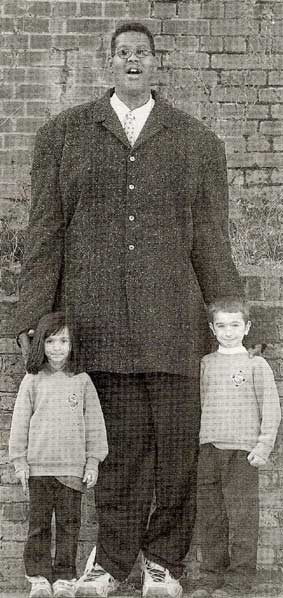 Hussain Bisad with Neasden pupils Darshni Seyani and Alexander North, both aged 5
THE world's tallest man is a 7ft 9in asylum-seeker living in North London, it emerged yesterday. Hussain Bisad, 27 is taller thatn a telephone box, weighs 33 stone, has a size 26 feet – and is still growing.
He is due to take his place in The Guinness Book of Records after overtaking the previous record holder, Radhouane Charbib, a 7ft 8in Tunisian.
He said: "I enjoy being this tall and love living in England. But I keep banging my head on things."
Mr Bisad fled Somalia in September, leaving most of his belongings behind in his home town of Qardho, after he was shot in the knee by robbers. He has been given permission to stay in Britain indefinitely because he is deemed a legitimate asylum-seeker.
The escape cost him his life savings. He does not have a job, but is being supported by his family and friends in Britain. He sleeps in a 9ft bed in this home in Neasden, and has to have his shoes made in Thailand at £600 a pair.
Height does not run in his family. His twin sister, Khardra, is just 5ft 5in and only a quarter of his weight.
Doctors have said that his height could be a symptom of a serious problem: a possible tumour on his pituitary gland, which makes sufferers grow after most people have stopped. Professor Mike Besser, an expert in abnormal growth at St Bartholomew's Hospital in London, said: "It is very rare and he must have urgent medical attention."
Mr Bisad has held the title of tallest man in Somalia since 1999 when he was 7ft 7.5in. He has grown since then and is expected to break the current world record when he is formally remeasured next month.
Being so tall is hungry work. A main meal consists of about 5lb of pasta. If puckish, he snacks on half a loaf, two tins of baked beans and three tins of tuna. He has to drink three gallons of water a day to avoid dehydration.