NORDENSKIÖLD'S COMPARISON OF PTOLEMY'S MAP OF THE MEDITERRANEAN WITH THE DULCERT PORTOLANO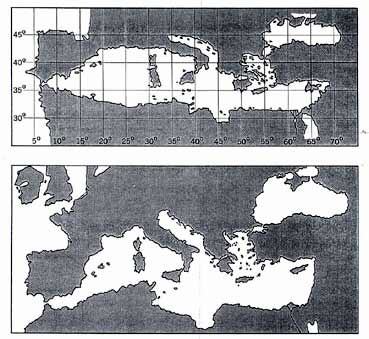 Nordenskiold's comparison of Ptolemy's Map of the Mediterranean (top) with the Dulcert Portolano.
After comparing the two, he found that the portolanos were much better than Ptolemy's maps. He compared Ptolemy's map of the Mediterranean and the Black Seas with the Dulcert Portolano (Fig. 3) and found that the superiority of the portolano was evident.
Let us stop to consider, for a moment, what this means. Ptolemy is the most famous geographer of the ancient world. He worked in Alexandria in the 2nd century A.D., in the greatest library of the ancient world. He had at his command all the accumulated geographical information of that world. He was acquainted with mathematics. He shows, in his great work, the Geographia (168), a modern scientific mentality. Can we lightly assume that medieval sailors of the fourteenth century, without any of this knowledge, and without modern instruments except a rudimentary compass – and without mathematics – could produce a more scientific product?
From Maps of the Ancient Sea Kings by Charles Hapgood
Maps of the Ancient Sea Kings Index